Dual Jewel
Twin V-8 Roadster
Original year: 1974
Company: Revell
Scale: 1/25
Designer: Ed Roth
Dual Jewel has two, two-two engines-in-one! Double your engines, double your fun!
812 cubic inches! Triple carbs twice. Zoomie Headers! Slicks on mags and chrome, chrome, chrome. Dual Jewel's a "dual altered" that's got more of everything. Build it show it. Dual Jewel's double trick.
With: Sculptured Body, Built-In Air Ducts, Detailed Interior with Bucket Seat & Butterfly Steering Wheel, Competition Roll Bar, Drag Chute Pack, Chrome Cragar mag wheels front and rear, Clear windshield, Chrome suspension, chassis & engine parts, Rear drag slicks, rear wing, Twin Ford 406 c.i.d. Engines with Triple Carbs and Zoomie Headers.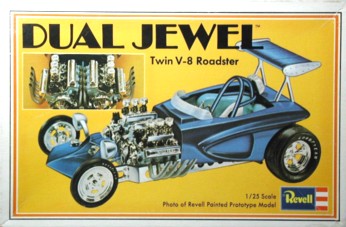 Click image above to see a close-up