Ala Kart
Barris' Custom 'Model A' Pickup
Original year: 1963
Company: AMT
Scale: 1/25
Designer: George Barris
Based on a '29 Ford pickup, The Ala Kart was built for Richard Peters of Fresno, California by George Barris. The ultimate in custom car honors: the title "World's Most Beautiful Roadster" at the famous Oakland Roadster show has been awarded to the Ala Kart. In custom show competition, this $15,000 jewel has never been defeated. Setting the trend for rods to come, the Kart boasts such innovations as air-bag suspension, fuel-injected Dodge engine, electrically-actuated emergency brake system, one-piece removable top, fully chromed undercarriage, custom formed hood and grille shell, and a 30-coat pearlescent lacquer finish.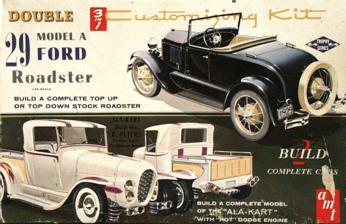 Click image above to see a close-up
Dave's comments:

This is the car that launched George Barris into model-making for AMT. And what a beauty. This kit builds two complete cars. The stock roadster can be built as either an early stock custom or an early hot rod. The instruction sheet says, "Running on California's dry lake beds these modified A's turned top speeds of around the 100 m.p.h. mark which, back then, was really flying (early '30s). Be sure to see both the sticker and WOW card for more on the Ala Kart. It appeared in the movie, "Hot Rod Gang." Yeah, I never heard of it either.
This kit is an example of AMT's "3-in-1 Customizing Kit" strategy in the 1960s. Many kids bought the same kits more than once to build them different ways. A very successful marketing ploy by AMT.
unbuilt