Aerovette
70s GM Concept Corvette
Original year: 1998
Company: Revell-Monogram
Scale: 1/25
Designer: Charles Jordan of General Motors Corporation
Back in the 70's, it became apparent to General Motors that their Corvette Stingray would have to be replaced after almost twenty years in production on the same chassis. GM is aware that Corvette drivers are a very demanding group, and did not want any next-generation designs that would alienate their existing customers. Chevrolet built a variety of concept cars to test owner reactions, showcasing advanced technology ideas
One of these concept cars was the Aerovette. It began life as the XP-882, a mid-engined prototype using a 400 CID V8 mated to an Oldsmobile Toronado transaxle. For the 1973 Paris motor show, an XP-882 chassis was repowered with an experimental four rotor Wankel engine, which looked very promising until it was canceled due to concerns about the rotary engine's typically poor fuel economy with an impending oil crisis just on the horizon. The Bill Mitchell, the ardent Corvette styling department magnate, gave the car a new life by reinstalling a small-block Chevrolet V8 and christening it the Areovette. A stunningly dramatic looking car, it was promoted as the new sixth generation Corvette for 1980, but never saw series production.
Charles Jordan oversaw the Aerovette design, which included radical bifold gullwing doors, and deformable plastic body-colored nose and tail sections which are common today, but revolutionary in the mid-1970's. The sterling silver paint, with silver leather interior and forged alloy turbine wheels later seen on the 1978 Corvette Indy Pace Car, gave the Aerovette a space craft like appearance unmatched by any other advanced sports car.

Click image above to see a close-up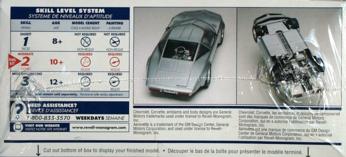 Dave's comments:

Yes, quite radical for the 70s. It would look futuristic even today. Just remember, everything old is new again as you'll see when you visit Thom Taylor's 55 customized Corvette, the Vette Agin.
unbuilt