Alternomad Caprice
Dramatically Modified Chevy Caprice
Original year: 1998
Company: Revell-Monogram
Scale: 1/25
Designer: Thom Taylor
What do you get when you mix one part Caprice wagon, one part classic 57 Chevy, and a generous helping of custom attitude? Alternomad! The most obvious 57 Chevy styling cues are the famous fins, aide trim, and rear bumper taillight, but note also the vintage Nomad style tailgate trim and the modernized "gun sights" on the hood. The Caprice wagon body has been converted to a radical 2 door configuration, and an Impala SS style grille and custom bumper with integral fog lights have been added. The engine and running gear and mostly stock, except for a lowered stance and 17-inch American Torq-Thrust wheels.
The Alternomad actually began as a drawing in a popular magazine and now this exciting Thom Taylor creation has made it all the way to a full-sized vehicle. So far, twenty lucky customers have ordered Alternomads and the list of future owners may get longer. Can be built with solid side panels or clear windows. Detailed V-8 engine and chassis with specially designed wheels. Colorful custom decals.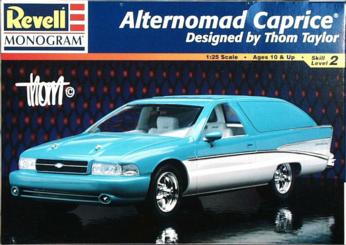 Click image above to see a close-up
Dave's comments:

Another cool Thom Taylor creation, I get a special kick out of this one because my dad used to have a 1984 Chevy Caprice and I'm telling you it drove like a dream. I was always trying to buy it off him. The Caprice was really an excellent sedan as evidenced by the cops using it in their fleets! Thom created another stylish custom with his '34 Ford Cabriolet.
unbuilt