Built by: Chris Deco, France
Kit building is nice, but I prefer to imagine my own designs. I like a lot of show rods and wanted to build a modern one, looking like a big Mattel "hot wheels". I thought that the Mako Shark was the ideal basis mixed with a indy car chassis.
A little drawing to be sure that idea was good, and i began to cut...
I used a lot instant glue + powder and polyester mastic, a long and dusty job, finalized by polyurethane filler and paint. Mat basis lack + pu coating. Rear lights are sculpted in clear plastic and painted clear red. Engine is a big block Ford, and the exhausts are made from welding wire. The scoop comes from a 1/16 revell top fuel kit.
The wind screen and light covers have been vacuformed. Wheels comes from Pegasus.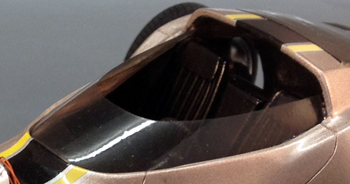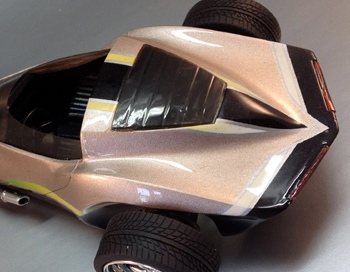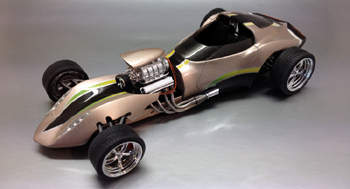 Click on the image above to SUPERSIZE it!