Built by: Fred Mellini in Seneca Falls, New York
I guess I have kinda started a personal trend that in any model I submit to Dave for the Show Rod Gallery is going to have a skeleton in, on, or around it!!
This build is based on the chassis, body, and motor from the reissued Li'l Yeller kit. I first started with the Li'l Yeller chassis and shorted the rear end to make it a single axle drive. I then used the rear leaf springs and pumpkin from the second axle so it would have the highest rake. The first set of rear radius rods I used were just plain ugly and thanks to "RatRod" and Tim Nolan from the Coffin Corner for pushing me in the right direction I decided to use the front radius rods by flipping them over to the rear of the truck. They worked out perfectly!!
The Li'l Yeller body was then assembled per kit instructions after which I then I used my razor saw to cut the rear of the body into a pickup style. The Body was then sanded, primed, and painted with the new Testor's one coat Lacquer Mythical Maroon. This was followed by several coats of automotive clear.
The motor was made by using the Li'l Yeller block, intake, exhaust , and combining the blowers from the both the Li'l Yeller and the T'rantula and also combining the pulleys and belts from both kits. The tires and rims are from the Groovy Grader kit and they were sanded for a used look and dry-transfer lettering was added.
The boom along with the noose is from the Hangman kit. The skeleton dudes are from a Li'l Coffin and the Boot Hill Express. Both skeletons went through some extensive plastic surgery to get to their current positions. They were sprayed flat black and treated to some dry-brushing with various colors to bring out their details. To keep this a fun build I decided to have one skeleton driving the truck and the second skeleton riding a skateboard in a wheelie position while holding the noose like a water skier. I just happened to luck out at Wally-world and spotted some Tech-Deck mini skateboards that would do the trick!!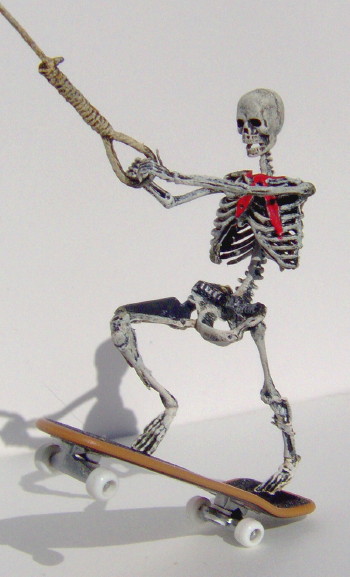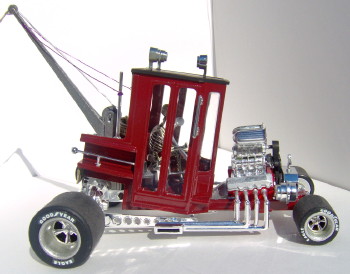 Click on the image above to SUPERSIZE it!