Built by: Boban (Bobby) Arsic in Rikon, near Zürich, Switzerland
I built this model because it fascinated me in my youth time, after I saw the real one in a book. A strongly modified, chromium-plated v8 engine, with 8 long exhaust pipes, with the longest aspirating pipes, which I saw ever, into an old Wild-West corpse car (or hearse?) to implant is mad. I also love the cool skeleton-cowboy. I always introduced myself, how one feels as a driver on this thing whether one makes thereby its last ride and into the eternal hunt reasons rushes. Well, that was probably the dark side in me.
I built it nearly Boxstock.
I selected a bright brown for outside with some gold and a darker brown for inside. The roof and the seat are black. The curtains are also in a bright and dark red and have black piping.
The rims are turned from aluminum, and on the inside I fit five-star Cragar rims, which have a pointed cone now in the center. Since the rear two-piece tires from the box do not please me, I turned new from full rubber.

The skeleton of the cowboy I colored first white, then with something black, yellow and gray weathered. I made it similar with the hat and the gun belt.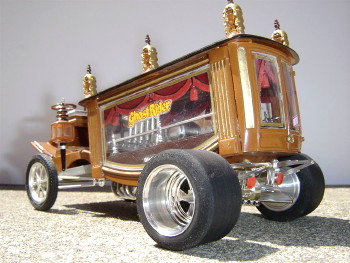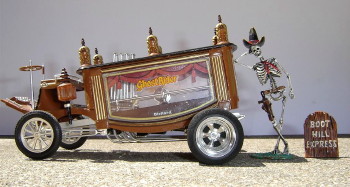 Click on image above to SUPERSIZE it!