The Alunatic
Built by: Jeff Miller

One fine day I was rummaging through my different kits & I found a Mysterion kit left over as a parts box. It had been there for quite some time & since I don't normally have Roth kits in my collection, I let curiosity take over. As I examined the contents, I stopped to see if the body was in good condition, I remembered that a friend in Arizona had built a fuel altered around this body but other than that I couldn't recall anybody doing a variation of this kit.

The next thing that happened I consider somewhat miraculous, I was prepared to spend hours if not months deciding if & what I should do to make this potential project my own brand & just how I was going to accomplish that. Instead what happened was this image slid into my head effortlessly & I knew instantly how I wanted this design to appear. The question now was how to get there & what kit(s) would I need to do so?

Once again higher powers seemed to be in play as I soon discovered that Boyd's Aluna Coupe would provide the missing link. It was no easy task to merge these bodies together & it seemed yet another miracle was needed, however with time, patience & a few sanding sticks I was able to combine the classic Roth body into the much newer Boyd design. While I was excited about the prospect of matting the 2 bodies together, my next obstacle soon presented itself in that "I had to have to the wheels & tires from the AMT Ram-Blurr snap kit & nothing else would do" syndrome. I guess we all have been through something like this & of course I didn't have this kit & few, if any were available.

To my surprise, I was able to talk Scott Colmer aka Flounder out of part of his collection & it seemed that the miracle streak was still alive. Little left to do but paint a wild car in a wild color & I choose Testors Lime Time green but something still wasn't right so I mixed some HOK candy green tint & shot a full body fade just to tease your eyeballs. Last but not least are those cool sidepipes from the AMT Black Force kit & the end to my miracle.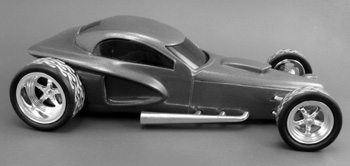 Click on the image above to SUPERSIZE it!