Supervan
Originally the "Bedroom Van"
Original year: 1977
Company: AMT
Scale: 1/25
Designer: George Barris
In his most recent endeavor, George Barris constructed a custom vehicle for the movie "Super Van." Starting with a stock Dodge Sportsman Van, design concepts and work began. The 318 cubic inch engine and automatic transmission were left intact, but from that point on the van underwent drastic changes and is, without a doubt, the ultimate example of futuristic motoring.
Includes: Opening gullwing window, rear window louvers, tape deck, color television, stereo, aerodynamic custom body, panoramic smoked glass, detailed interior with bucket seat, 318 cubic engine, custom painting scheme, super-wide tires, mag wheels.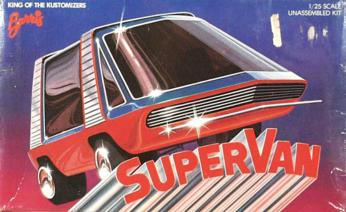 Click image above to see a close-up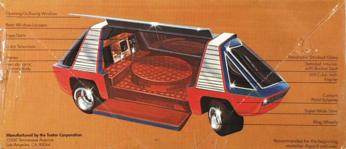 Dave's comments:
Looks like the ultimate RV to me, but only if it comes with the blonde babe in the Kustom Cars sticker. Never saw the movie. Technically, this kit is a reissue of the 1973 IMC kit called the "Love Machine." (contribution by Gerry a.k.a "PintoKing".)
unbuilt