Sand Shark Dune Buggy
3 Versions: Competition, Street, ot Tunnel Buggy
Original year: 1969
Company: MPC
Scale: 1/25
Designer: ????
3 building versions...competition, street custom or tunnel buggy! Street custom with all weather top includes: All weather top, scoop, upswept mufflers, side view mirrors. Tunnel buggy includes: Tunnel chassis panel, bucket seats, hollow baloney tires, mag wheels, mud tires, VW engine, roll bar, tonneau cover, bucket seats and standard carb set-up plus and standard exhaust.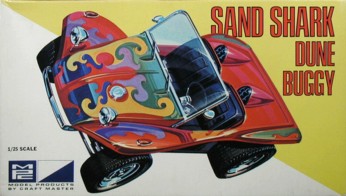 Click image above to see a close-up
Dave's comments:
This little buggy can be customized a number of ways, but I just love those psychedelic decals and that open look on the cover. Hey, what's a "Tunnel Buggy" anyway?
unbuilt