Paddy Wagon
The Look Of Yesterday, The Power Of Today!
Original year: 1968
Company: MPC
Scale: 1/25
Designer: Carl Casper
Carl Casper's wild new show stopper. Loaded with simulated brass parts and the authentic custom components: Authentic antique body, doors open and close, working door latch, Chevy engine, giant velocity stocks, small front racing tires, hollow baloney racing slicks, antique carriage lamps, antique tail lights, vintage bulb horn, antique steering wheel, customer headers, step plates, antique head lamps, antique running lights, model T radiator and ornament, detailed front suspension, brass jail bars, Broyles chassis.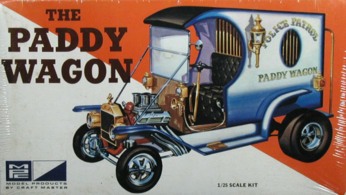 Click image above to see a close-up