Paddy Wagon
It's a Riot!
Original year: 1968
Company: Monogram
Scale: 1/24
Designer: Tom Daniel
There oughtta be a law! The Paddy Wagon is so groovy, so loaded with swingin' goodies, it makes you want to get busted...just so's you can ride in it. Designed for Monogram by that way out rod stylist, Tom Daniel, the fugitive from East Los Angeles. This "Fuzzmobile" is powered by a wild, fully modified Cobra mill. Cab interior combines custom and antique and passenger compartment has authentic wood benches contrasted by red padded walls. And check those wide, wide Goodyear slicks on mag wheels, authentic police globes, cycle fenders plus an old-time "Pot" helmet, night stick.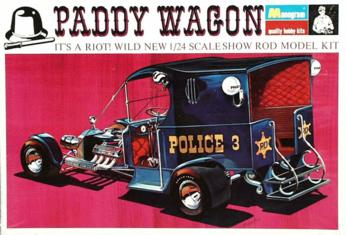 Click image above to see a close-up
Dave's comments:
Like the Beer Wagon, it's a timeless classic that you can still purchase easily. Built it as a kid and again in 1996. This '68 original is still sealed and looks like I just took it off the shelf at Garman's Hobby in West Allis, WI. The description on current reissues has changed from the original "so groovy" to "so neat". I still think of it as SO GROOVY MAN! The 1997 reissue cam with two pre-painted cop figures--something Tom wanted to do with the original kit.
pic coming