Force 440
Police Pursuit Vehicle
Original year: 1978
Company: MPC
Scale: 1/25
Designer: ????
Police pursuit vehicle features: 440 magnum V-8, 4 black vinyl tires, bucket seats, radar units, emergency lights, special police colorful decals, weapons arsenal, tel-ex and CB rad, front bumper push bar.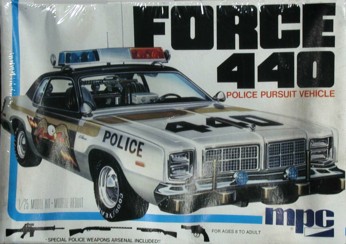 Click image above to see a close-up
Dave's comments:
This beefy cop car nears the end of a line of law enforcement on the Rally. Starting with Tom Daniel's Paddy Wagon, though his Cop Out, moving to this more pedestrian but still muscular Dodge Coronet, and ending with the Squad Rod in 1980. Best arsenal on the Rally too.
unbuilt