Squad Rod
Nova Police Car
Original year: 1980
Company: MPC
Scale: 1/25
Designer: ????
Bright chrome parts, police flashers, high-rise hood, side pipes, spoilers, weapons, detailed suspension, wide vinyl tires, full equipped police interior, plated wheels, front air dam detailed engine with dual quads.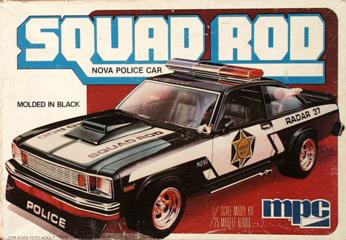 Click image above to see a close-up
Dave's comments:
A police interceptor that even Mad Max would go for! I really like the look of this rod, even more than the more famous police rod on this site, Tom Daniel's Cop Out. The 1980 date on this kit is a late testament to closing out the golden era of showrod models and wild customs.
unbuilt