Bat Machine
1970 Chevy Impala SS 454
Original year: 1970
Company: MPC
Scale: 1/25
Designer: ????
Runs like a wild thing...glows like a full moon...and looks like something else! Wildest, most way-out accessories ever!--Build it as vampish as you want. Includes: Skull hood ornament, bat fang grille, custom hood, bat spoiler, hollow slicks, mag wheels, bone steering wheel, spider web wheels, bat cape tonneau cover,bat mirrors, 454 CU. IN. engine, rat fender mounts, and bat air scoop.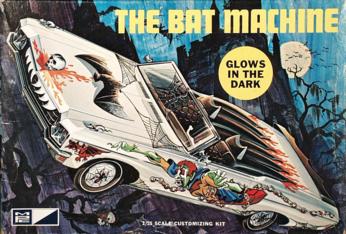 Click image above to see a close-up
Dave's comments:
Bats, skulls, spiders, rats, spider webs, bones and ghouls flying out of the crypt...what's not to like? And since it glows in the dark, I don't even have to paint it! Perfect centerpiece for Halloween season.
unbuilt