Built by: Dave Marek in Torrance, California
The Moon Mixer is basically box stock with Groovy Grader wheels and a Tamiya GT-1 engine hanging out the rear.
It's Painted candy red to orange with Paddy Wagon headlights. The tires are painted dark gray and then I made NASA decals In black to lay over. The same for the mixer ... I made new decals for the body as well as the windows.
It sure took longer Than it should have and I like to thank Dave R. for the roof loan!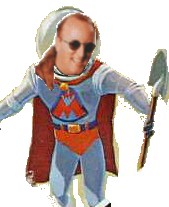 Have you seen this man?
If so, call 1-800-2far-out