Built by: Robert Thurgren. Vimmerby, Sweden

As I think the iconic Barris build is far to high and rater ugly, so I bought this model just for parts.
The small Hemi was planned for a amt "Customizing Boat Kit".

But.. my friend Emanuel Nilsson did an amazing build of a very low revell 29 Ford pu, by using lengthened fenders!,
the very same week I found a painting of artist "Gary Campesi",
...and "The Ala Bob" was now born in my head. Named from my alias "constructionbob"

Using one complete kit + extra fenders and hood from another. It's channeled 10mm, sectioned 5mm,
fenders lenghtened in front 7mm, at rear/bottom 5mm. Top is chopped aprox 5mm. Chassis is not z'd, just as is.. Bed shortened, Body moved backwards, hood broaden in front, front extended & sides modled in between front and body.
Frontfenders opened against hoodsides. Olds dash & antennas from amt 58 Impala, reshaped kustom seats from amt 49 Merc.
Tools from Monogram 40 Ford Pu. Rear wheels from mpc Chrysler 32 + plastic halfs from amt "Rat Packer",
front wheels from revell 59 Galaxie. Rims from sparebox + ceterpieces from some snap 1/32.
Paint is "Swedish Pearl", reworked & moved decals from kit.

In true George Barris style a diorama has to be much, "to much".. so I did.

"The Ala Bob" model/diorama has recived a lot of prizes at model shows in Sweden.
Participated in Swedish "Wheels magazine" #9 2014, page 72 & 73.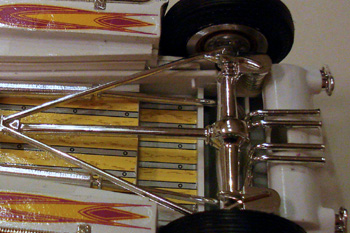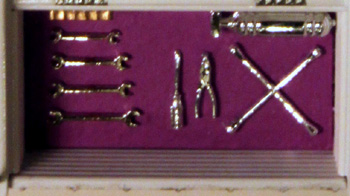 Click on the image above to SUPERSIZE it!
Building thread can be found in "Skallerackers". HERE