Winged Express
Altered 'T' Rod
Original year: 1973
Company: MPC
Scale: 1/25
Designer: Willie Borsch
"Wild Wille" Borsch has been at the top of this class and performed with such crowd-pleasing abandon that he is universally regarded as one of the drag's true super stars. Includes Cragar blower drive, fuel tank, vinyl front tires, radius rods, tube frame, Halibrand mags, Ansen mags, hollow Goodyear slicks, 'T' body, spoiler, GMC blower, 429 Ford semi hemi.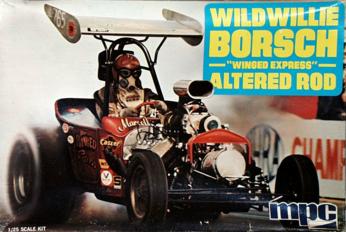 Click image above to see a close-up
Dave's comments:
I got this correction from Kelly Robinson:
I was looking at the cars in "The Show Room". And notice while looking at the Winged Express (Altered T) info, you and MPC stated that the engine is a 429 Ford Semi-Hemi. The engine is actually a 392 Chrysler Hemi. Marcellus & Borsch, and now with Mike Boyd driving, never ran any Ford engines in the car.
unbuilt