T'rantula
Wild Digger with Drag Chute!
Original year: 1968
Company: Monogram
Scale: 1/24
Designer: Tom Daniel
Green and wild, this show-n'-go rail dragster is out to beat all the competition. With a big 427 c.i. single-overhead cam Ford V-8 engine, belt-driven blower, dual intakes and spider leg exhaust headers, it looks like it's ready to make its move.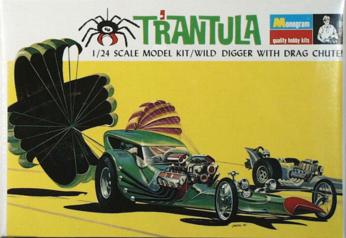 Click image above to see a close-up