Sweetee
Make the Scene in Style in this Unreal Street and Show Rod!
Original year: 1970
Company: Monogram
Scale: 1/24
Designer: Tom Daniel
Front wheels are steerable, wide ovals, Chevy 327 mill, 671 GMC huffer, bug-catcher scoop, old-time cowl lamps, telephone on dashboard, chopped roadster top, big fat slicks, spoked mag wheels. 2 trading cards included!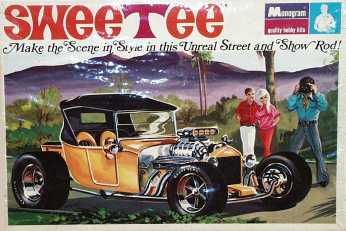 Click image above to see a close-up
Dave's comments:
A simple, but tuff-looking design. Dig the guy on the box with the camera - -bell-bottom pants and the goofy neckerchief! This model is sealed and contains two original Monogram trading cards. Someday, I'll find out what they are.
unbuilt