Surfite
The car that starts with a beach party!
Original year: 1965
Company: Revell
Scale: 1/25
Designer: Ed Roth
Ninth Wave Features:
Completely ROTH-olutionary custom car designed for the knobby-kneed toe curlers, authentically duplicated in 1/25 scale by Revell! Chrome trimmed Austin "850" engine, Chrome running gear and wheels, Three separate surfboards, plus--TIKI SURF HUT--complete with TV antenna, Roth-luau type chimney, "Axe" with hand, ready to swing.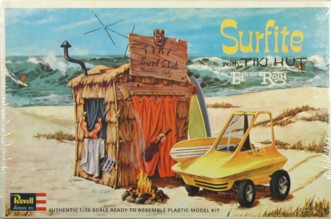 Click image above to see a close-up
Dave's comments:
Designed by Ed Newton, this is another Roth custom scaled down from the real 1:1 rod to a cool little Revell kit of the '60s. Reissued in 1999, this is an original sealed 1965 kit.
unbuilt