Predicta
Futuristic Thunderbird
Original year: 1964
Company: Monogram
Scale: 1/24
Designer: Darryl Starbird
The first privately-constructed custom car to feature a bubble top, Darryl Starbird's Predicta is one of the most famous specially-built vehicles ever constructed. Starting with a wrecked '56 Thunderbird in 1959, Starbird added '59 Buick rear fenders, reshaped the front fenders and grille, installed a Chrysler Hemi engine, and invented a tiller steering system so the car could be driven from either seat. The bubble top hinged at the rear to permit entry to the car. The Predicta won the Motor Trend Custom of the Year award in 1960, was shown at the Oakland and Monterey car shows where it won top awards, and it was the subject of nearly 30 major articles stretching over more than 35 years all the while being driven regularly by Starbird.
In order to make a kit of the car, the Predicta was purchased by Monogram in 1964 while Starbird was Monogram's custom consultant--the last of six Starbird cars purchased by the company and the only one not originally constructed by Monogram. Immediately after it was purchased and while basic kit engineering was going on, Starbird modestly restyled the Predicta (a new bubble top was fitted, the front and rear grilles were changed, the wheel wells were radiused) and, to achieve even more show appeal, the color was changed from a medium candy blue to a bright candy cherry red. The car was then campaigned at the New York International Auto Show in late 1964 and then across the United States with Championship Auto Shows.
After years of show duty, the car was given away by Monogram in 1970 to a reader of Model Car Science who won a model building contest. The Predicta still exists--Starbird reacquired it in 1977 after which it was restored (now blue again) and is on display in Starbird's Rod and Custom hall of Fame located in Afton, Oklahoma. Over a million kits were sold in the Sixties (three distinct box art designs), after which the kit was reissued in New Zealand in 1977, and again reissued in the United States in 1990. This kit is packaged in the second issue box art which features of an actual photograph of the Predicta taken in 1964 at the New York auto show.

Click image above to see a close-up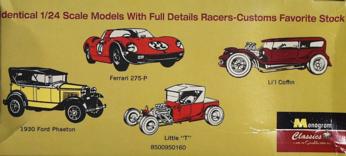 Dave's comments:
My kit is the 2000 "Monogram Classics" reissue. The 1990 Predicta reissue (mentioned above) is also in my collection and shown to the right.
If you think this historical beauty is way too cool, then read this detailed account of how Starbird created, sold, lost, then reacquired the Predicta.