Pie Wagon
Cherry Pie Haulin' Rod Show Stopper
Original year: 1968
Company: Monogram
Scale: 1/24
Designer: Tom Daniel
Talk about a cherry show rod! The Pie Wagon is the latest hit sensation! It's a groove, a gas and also custard and banana cream! Created by Tom Daniel, West Coast rod designer, it's a wild custom built delivery truck full of all kinds of new goodies. Loaded with chrome and BRASS plated parts, it's the standout in any collection of show car models. From it's brass "T" radiator to the opening rear door and cargo of pies, it's the most in mad, mod haulin' machines!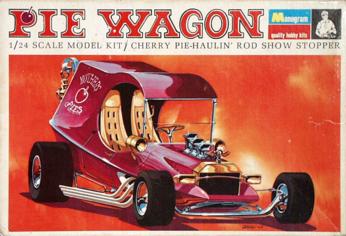 Click image above to see a close-up
Dave's comments:
Another one of my very favorites as a kid, I built it in with the Mother's Pies decals in 68 when I was ten. I remember playing with that cool little door on the back with the pie rack. Not only a great show rod, but beautiful simple box art on all panels make it even more fun. Truly one-of-a-kind in the peak glory years of show rods.
unbuilt