Orange Crate
Chopped '32 Ford Sedan
Original year: 1963
Company: Revell
Scale: 1/25
Designer: Bob Tindle & Ed "Big Daddy" Roth
In 1962 Bob Tindle's brilliant and imaginative ORANGE CRATE hit the "show and go" circuit like an orange bomb when it won the Sweepstakes Trophy at the 1962 Los Angeles Winternationals and the Oakland National Roadster Show's trophy for best competition car. These awards are based on appearance and drag strip potential, and are two of the most sough-after trophies in the country.
The ORANGE CRATE is built around a blown 1960 Olds engine, and is mounted on an all-chrome, hand-crafted tubular frame. Bob used the popular "deuce" body, chopped and channeled, with re-shaped and molded rear fenders, and provided the final imaginative touch when he hinged the body at the back for display and maintenance purposes. The old saying, "If it don't go - - chrome it," was laid to rest by the ORANGE CRATE which, chromed, polished and plated in every possible place, turned 140 mph on the strip with an E.T. of 10.61.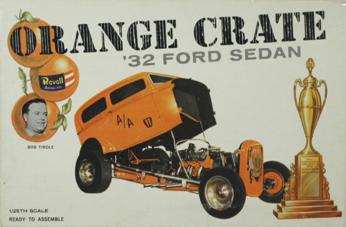 Click image above to see a close-up

Dave's comments:
What a disservice to call this beauty a "crate." The tilt-up body is clever and the Tudor body a classic design. And, unlike a lot of show rods, this one was really run on a race track. Just reissued in 2000 with original box art, my kit is a 1971 reissue in an original 1963 box. Here is the 1971 box art.
unbuilt