Munsters Dragula
Grandpa Munsters' Creation
Original year: 1964
Company: AMT
Scale: 1/25
Designer: Tom Daniel (built by George Barris)
The DRAG-U-LA was built by George Barris for "Grandpa" on that wild TV show, THE MUNSTERS. The DRAG-U-LA is composed of a fiberglass body which was actually molded from a real coffin! The body "rests" on a dragster-type tube frame. Power is supplied by a 350 h.p. Ford Mustang engine. It also has a royal purple velvet interior and bubble canopy with organ pipe exhausts, a drag parachute, air scoop, racing slicks, and the "Surf Slab" motorized surf board as an optional attachment.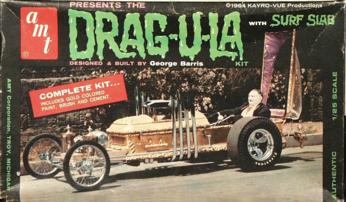 Click image above to see a close-up
Dave's comments:
Not as well-known since it only appeared in an episode called "Hot Rod Herman" and the Munsters' movie, the Dragula has never been reissued individually, but only as part of the Blueprinter series in 1989 with the Koach in a plain box. Take a look at this site which tells some facts and has many pictures of the Dragula.
unbuilt