Mako Shark
The GM Styling Sensation! Mark IV 427
Original year: 1966
Company: MPC
Scale: 1/25
Designer: Bill Mitchell / Larry Shinoda
Working front end suspension with actual metal springs. An all-time first! One-piece hollow tires, front wheel turn, disc brakes, retractable rear bumper, 25-piece transport trailer with operating hinged loading ramp, hinged roof opens, independent rear axle, authentic treaded vinyl Indy tires, head rests, optional rear window--clear or louvered, 427 engine.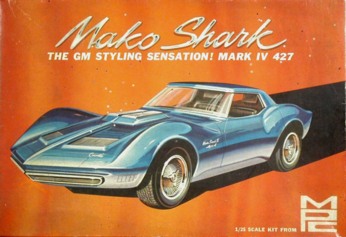 Click image above to see a close-up
Dave's comments:
Loaded with fun hinges, springs and other moving parts, it even comes with it's own trailer! Just remember, you can never have too many custom Vettes in the Show Rod Rally.
unbuilt