Little 'T'
Custom Street and Show Rod
Original year: 1964
Company: Monogram
Scale: 1/24
Designer: Darryl Starbird
The Little "T" is Monogram's companion model in 1/24th scale to the very popular Big "t" in 1/8 scale. The design was originated by famed customizer and automotive stylist Darryl Starbird. Power is supplied by a highly modified Chevrolet 283 cubic inch V8 engine. The engine inhales thru six chrome plated Stromberg 97 carbs mounted on a polished Weiand drag star manifold. There are extra parts included for assembly as a pick-up with shortened bed and a rolled and pleated bed cover; or a roadster with a model "T" turtledeck; or a large chrome plated oval gas tank to supply the amount of fuel needed to "operate."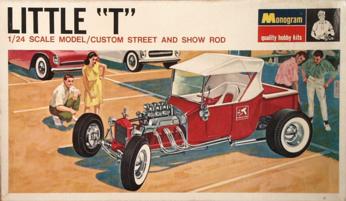 Click image above to see a close-up
Dave's comments:
Lots of 'T' bucket rods on this site, but this is one of the originals by Darryl Starbird. This is the 1966 reissue. As with all these 1966 Starbird kits, it has great box art.
unbuilt