Hippie Hemi
Streamlined Dragster
Original year: 1968
Company: AMT
Scale: 1/25
Designer: David Carlock
Build the Hippie Hemi version with the psychedelic hippie decal or build the Rampaging Reptile version using the authentic 'gator decal. Includes" "Halibrand" wheels, vinyl slicks, "butterfly" steering wheel, GMC 6-71 supercharger, Enderle fuel injector, clear plastic see-through oil pan, black rubber band drive belt, interior engine components include flywheel & crankshaft, tubular frame, highly detailed racing suspension, Pirelli tires, simulated "chrome" plated front suspension.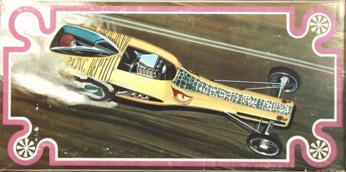 Click image above to see a close-up
Dave's comments:
Another outstanding show dragster from the AMT series, this one is most unusual because it's called the "Hippie Hemi", but shows the "Rampaging Reptile" on the box art. The "Hippie Hemi" version box art is on the end of the box which is highly unusual (shown to the right.) Outstanding decal sheet with this kit (below).

unbuilt