Fireball 500
SSXR Barracuda as seen in the American International Pictures movie "FIREBALL 500"
Original year: 1966
Company: AMT
Scale: 1/25
Designer: George Barris
Highly detailed four-wheeled trailer complete with springs, dual windscreens, "Rader" mag wheels, Chrysler "Hemi" engine, side exhausts and racing mirrors.

Click image above to see a close-up
Dave's comments:
Don't remember the movie growing up. I'll have to check it out some day. The Johnny Lightning (think Hot Wheels) car was issued in '99 (on the right) and AMT reissued the model kit again in 2000. Tuff-looking rod by Sir George, but if you're going to build it, you have to look here at Bonediggers' site for the complete story and decide between the "movie" car and the "show" car appearance.
Look at the movie poster below. The movie starred Frankie Avalon and Annette Funicello, Fabian and the sexy Julie Parrish. It was directed by William Asher who directed a bunch of Frankie and Annette beach movies in the 60s. In this movie, a promoter hires a stock-car driver for a cross-country race that turns out to be a bootlegging run.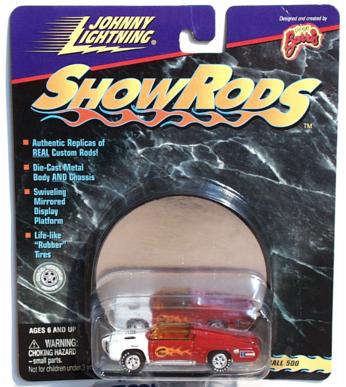 Unbuilt