Cosmic Charger
Carl Casper's Fuel Dragster
Original year: 1972
Company: MPC
Scale: 1/25
Designer: Carl Casper
A colorful Hemi powered brute of an enclosed cockpit dragster. Racing bucket, roll cage, mag wheels, full covered body, 426 CID Hemi engine, scoop and blower, chute, front spoiler, hollow slicks, front bike tire, plated spoked wheels.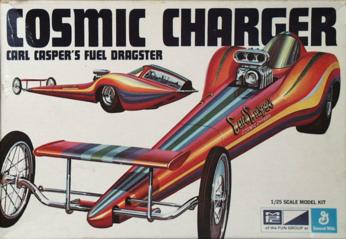 Click image above to see a close-up
Dave's comments:
With all due respect to Tom Daniel's T'rantula, this is probably the coolest dragster on this site. The streamlined look with the enclosed cockpit is outstanding. The color scheme is truly 'cosmic' --better then the sister Casper dragster, the Galloping Ghost II.
unbuilt