Beverly Hillbillies
The Family Hauler or Granny's Haulin' Rod!
Original year: 1968
Company: Model Products Corporation (MPC)
Scale: 1/25
Designer: George Barris
When TV's Beverly Hillbillies' decided it was time to drive a new car, to fit their Beverly Hills position, show producer Paul Henning commissioned George Barris to build the "Beverly Hillbillies Hot Rod" for Jethro. Barris, trying to retain the old jalopy's image that had become the show's trademark, looked for and found a 1921 Olds Roadster. The body was removed and the chassis reworked to accept a '69 olds 442 engine, automatic transmission, rear axle and brakes. Firestone Indy tires and Cragar S/S wheels were used to put the power on the pavement.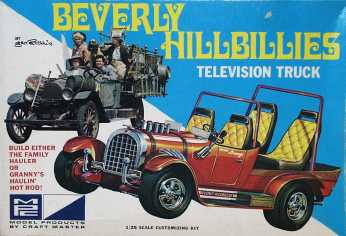 Click image above to see a close-up