Bed Bug
Panel Pad
Original year: 1969
Company: Revell
Scale: 1/25
Designer: Dave Deal (box art)
Love is blind--it has to be for the great number of people who really dig the Panel Pad. This adorned "box on wheels" has a beautiful sense of the uglies. In fact, it's so far out looking, it's IN! About the only modifications ever made are radiused rear fenders to accept larger tires and sometimes adding airscoops for its underwhelming engine. The go-anywhere, carry-anything panel truck is an especially big favorite of the flower-people. For a weekend at the surf or a scene at a "Rock" festival, it makes a great crash pad. Build Revell's detailed model--it's the right way to get "bugged!"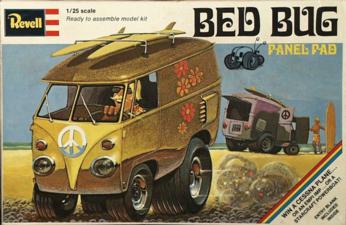 Click image above to see a close-up
Dave's comments:
Yes, it's just another simple magic bus, but I have a soft spot for peace signs and flower power. Embodies the mobile freedom of the flower children of the Vietnam era as they traveled from one protest to another.
Unbuilt