the Bathtub
One of Bob Reisner's California Show Cars
Original year: 1969
Company: Doyusha (original from Eldon)
Scale: 1/25
Designer: Bob Reisner
This California Show Car features twin French Bathtubs with lots of plumbing and a twin-blown Chrysler engine. Textured parts simulate the plush upholstering. Replica of the California Show Car styled and shown by Bob Reisner on tours and in leading magazines.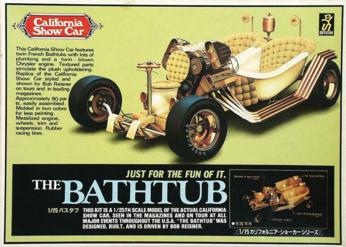 Click image above to see a close-up
Dave's comments:
Five of the six Bob Reisner creations were first marketed by Eldon, and later, Doyusha. Dig the two rolls of toilet paper on the front bumper of this rod. Reisner's Outhouse is much less ornate than the Bathtub, but still gets the job done.
unbuilt