Built by: Earl R. Simons, Duvall, Washington

As we know, Tom Daniel's VANDAL (radical Chevy Van) was the ultimate 1960's VAN! - Well, after a long wait, here is the VANDALL II - the ULTIMATE 1970's VAN!
I built the VANDAL in my youth ( It's Junk yard pieces-parts, now...) My son gave me this one a few years ago for my birthday (Whatta great kid!), and I decided to Notch-it-up a DECADE by re-designing the front end using V-1's signal & headlights, a custom grille from the '56 Ford Victoria 3-in-1 kit (I think) & nose scoops from some 70's Pontiac hood.
Rather than a BLOWN 429 BOSS (Ford engine GASP!), I INJECTED this puppy using the Dragon Wagon's injector stacks, & dumped the exhaust into a SINGLE muffled stack up the driver's side corner.
I also cut a window behind the engine to make better use of the kit's curtains ( I glued two curtain halves back-to-back), & painted the body 2-stage Emerald Green. I hand-painted the lime green letter trim, 'II', & beltline stripe. The gold stripe is gold bare metal foil.
The interior is flocked Lime Green (of course!) with real wood rear fender trays & ceiling. - Deep dish Chain steering wheel with a 1959 Chevy dash gauge cluster, coke bottle shifter, and an 8-Track player on the driver's right (where the gauges were on V-1).
The original globe lamp was kept, but the groovy posters were replaced with a BOSTON poster, a Vino bottle from the Li'l gypsy wagon in the drink tray, and for entertainment , a (threaded) reel-to-reel tape deck, a T.V., & kick-ass speakers, with the usual 1970's bong accessory made from thread & an earring back.
I had to put the (un-matching) 'Luv Machine' decal on the rear window 'cause I glopped the glass at the last minute-- it DID come from a 70's Chevy Luv kit.

Finally, I changed out the 1/2 ton slotted rims & rear slicks, to 12-spoke 1 ton rims with Goodyear RALLY GT's all around.

With it's new Fascia and 'Fang' split rear bumpers, it definitely has a 'SHARK-ish' look about it that was kind of unexpected, but is still recognizably 'VANDAL' We're ALL-ALL RIGHT....We're ALL-ALL RIGHT!!!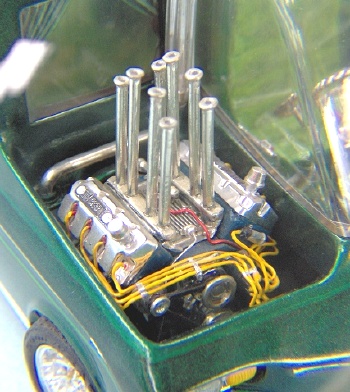 Click on the image above to SUERPSIZE it!