Built by: Dan Barten. . .Wauconda, IL. USA
---
EXTRA! ! ! EXTRA! ! ! EXTRA ! ! !

ST. VALENTINES DAY MASSACRE! ! !

EXTRA! ! ! EXTRA! ! ! EXTRA ! ! !

MURDERS ON CLARK STREET! ! !

GET YOUR TRIBUNE, HERE! ! !
---
Chicago, known for it's gangland battles between show rod designers, had a horrific scene today at 2122 Clark Street on the north side. Some of Roth's gang members were gunned down at 10:30 in the morning, at the S-M-C Cartage Company. This has been, and continues to be, the only way Chicago settles a model contest. It was implied that Roth himself was the intended target, for trying to infiltrate the north side with addictive car designs. But this time Roth escaped unharmed.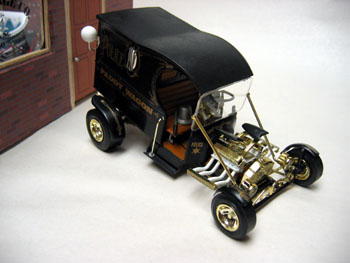 The north side eye witnesses said that they saw Roth walking towards the garage when a stock built "The Paddy Wagon" pulled up out side the Clark street garage. Police jumped out and entered the building. Roth and his body guard turned and took cover, not to get caught up in the shake up. Shortly after the two police were seen entering the building. . .a barrage of machine gun fire broke the neighborhood's morning routine.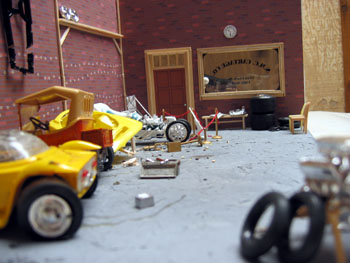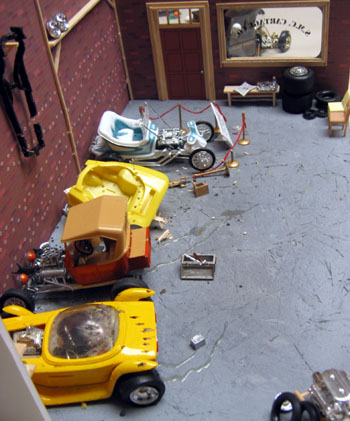 The startled witnesses, were comforted to see the police having a German " Red Baron" in custody as they left the premises. They thought he was the lone gunman, due to the caliber of his guns and the evidence on the scene. The police had the situation under control. But, they were surprised to find out, the people spotted leaving the scene were actually the killers in disguise!

Standing over the carnage, Roth was quoted to say, "Only Daniel kills like that!". The unspoken territorial lines are set in stone and no one ever crosses the big BOSS. . . TD. . . without a price to be paid. It was the worse massacre in Showrod history and Roth's moral and stronghold in the north was destroyed.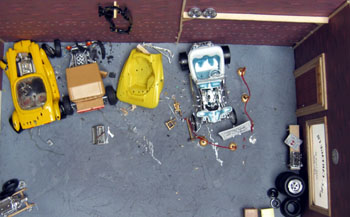 Investigators found out that it was all a set up. Roth was expecting an illegal shipment of plastic from Canada. He was going to handle the money himself. But as fate would have it that day he was running late to the 10:30 am rendezvous.
Mr. Daniel could not have been behind the hit, because, he was at his winter home in Las Vegas. When reporters interviewed him, he acted surprised and denied any involvement with the killings. "This is ULTIMATE TRIBUTE to you Mr. Daniel, from someone who's loyal to you, alone!", was said. And his only reply was a quick little wicked smile that vanished as quickly as it came. With his sincere condolences for the dead creations, his reply was, "Only Roth kills like that!".
Daniel stands triumphant in history as the one and only true BOSS and leader of the Chicago area and continues to build his showrod empire to this day.